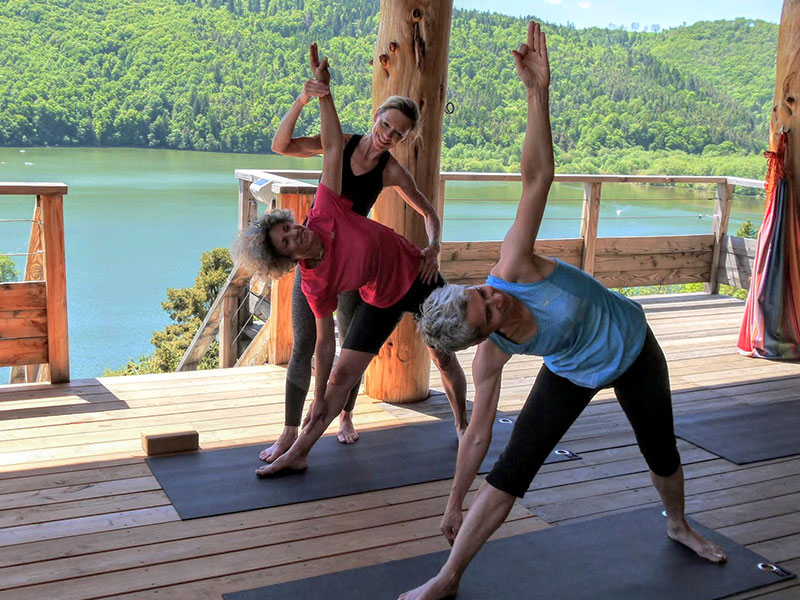 Originally, yoga was taught by a master to one student at a time. In my view, this is the best way to understand and assimilate the full dimension of yoga. As the teacher, I am there just for you, to guide you as you progress. I ensure that you are correctly aligned in the postures, to avoid injury. This approach is quite different from group practice with little or no adjustments.
Progress will be rapid and you will soon discover the benefits of your practice. My sessions are adapted to your particular needs and availability, with flexibility as the keyword. A typical session would include meditation, postures, breathing techniques and relaxation. From time to time, I also use Thai yoga massage and fascia training tools to relieve tensions.
Yoga promotes the well-being of staff members, leading to better performance at the workplace! I teach Yoga in corporations, and my experience shows that it reduces the stress inherent to office work. Sessions consist of meditation and breathing exercises to relieve stress and calm mental activity, together with a variable set of postures for physical harmony and a time of relaxation.
Staff return to work invigorated, energized and feeling better in general.
I offer sessions of 45, 60 or 75 minutes, in your offices, teaching groups of 4-20 people either before work, during the lunch-break or after work.
For more information, don't hesitate to contact me.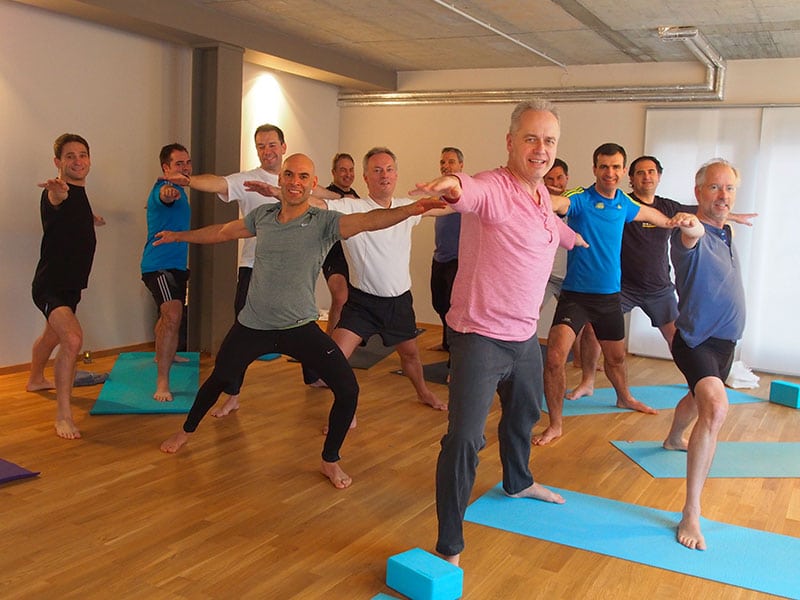 Prenatal and Postnatal Yoga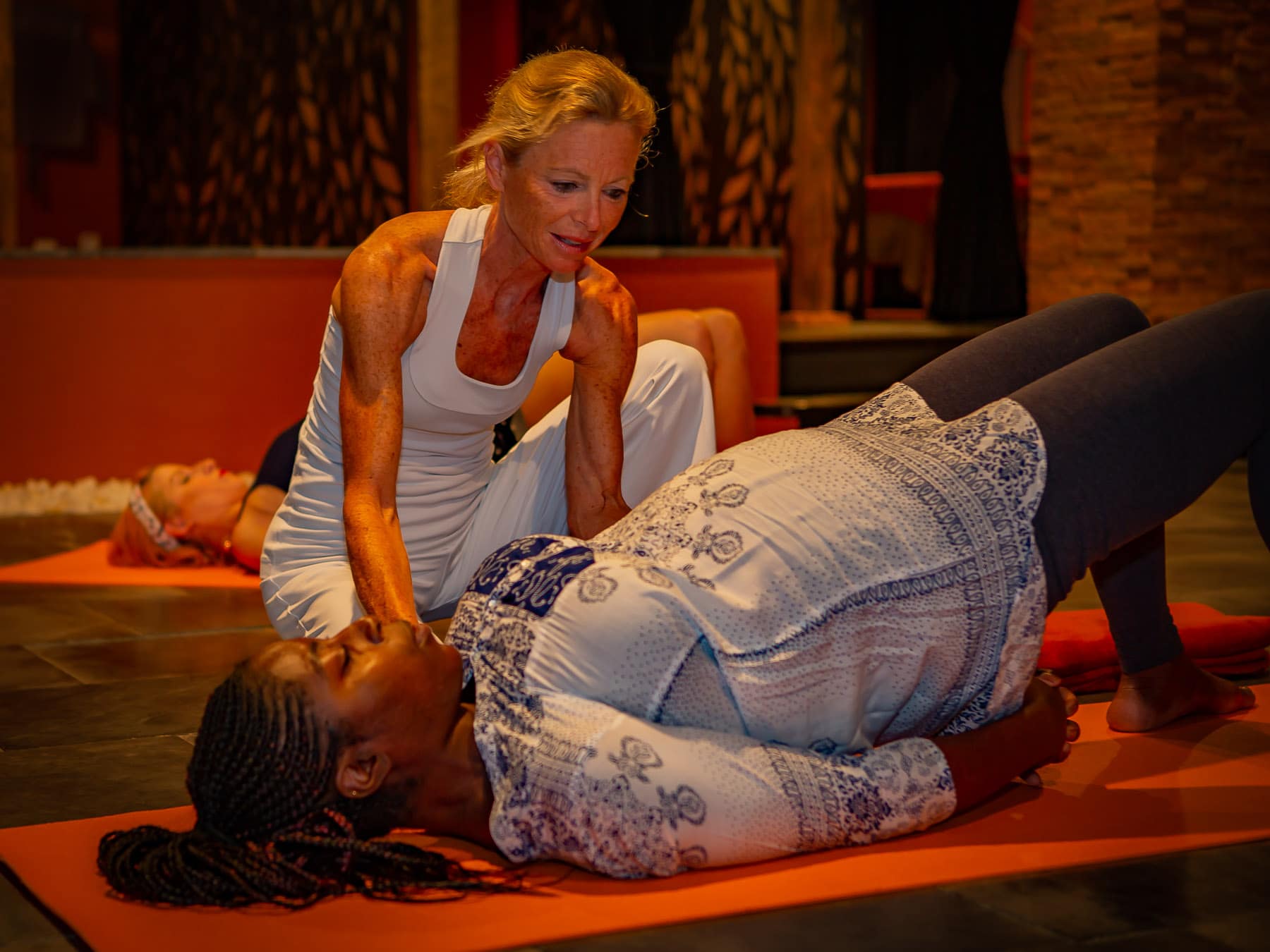 My license in prenatal Yoga is validated by training with a midwife and five years of teaching Yoga to pregnant women. I offer group and individual sessions, either at your home or in an appropriate secure place for physical and mental preparation for your baby's arrival.
The sessions take into account each woman's specific needs – physical, mental and emotional – to ensure the best conditions for your pregnancy.
As a mother of three now grown-up children, my experience is available to share, support and advise on all aspects of your pregnancy. With a caring open temperament, my goal is to accompany you on the best possible experience of this special phase of your life.
Stand-up paddle Yoga, which originated in Florida, is the practice of paddling standing on a board combined with Yoga postures, breathing exercises and relaxation. Practising Yoga on an unstable board challenges balance and strengthens shoulder, abdominal and gluteus muscles.
But for me, there is more to SUP Yoga. When we coordinate breathing with the paddle movement, we are able to connect to our surroundings, away from the bustle of the city. We can concentrate on Yoga postures in the fresh air and then have the time to relax, just feeling the movement of the water under us. SUP Yoga becomes a poetic activity inviting us simply to reconnect with our inner self as well as our environment. After the session, we feel different than before.
This activity is organised on request, in groups or individually and is weather-permitting.
For more information, don't hesitate to contact me.
Check out this two articles about my paddle yoga classes from Mail Online and You Magazine.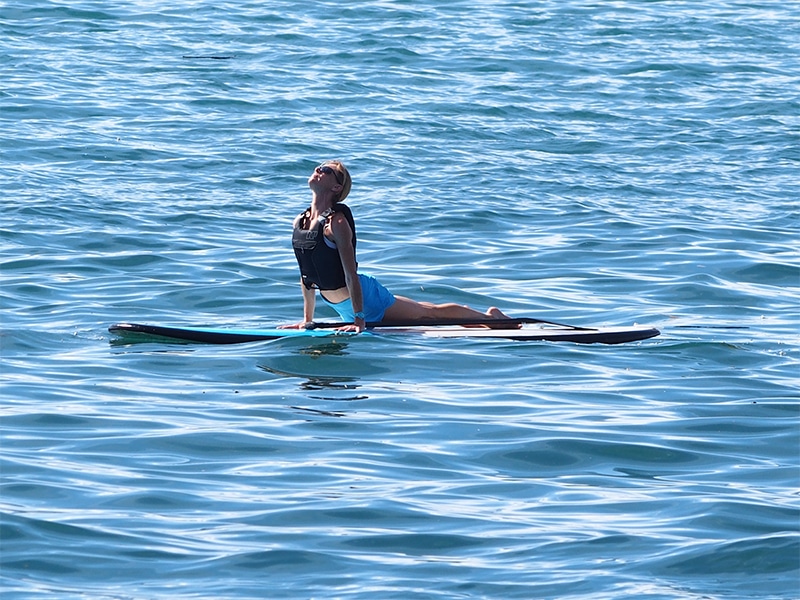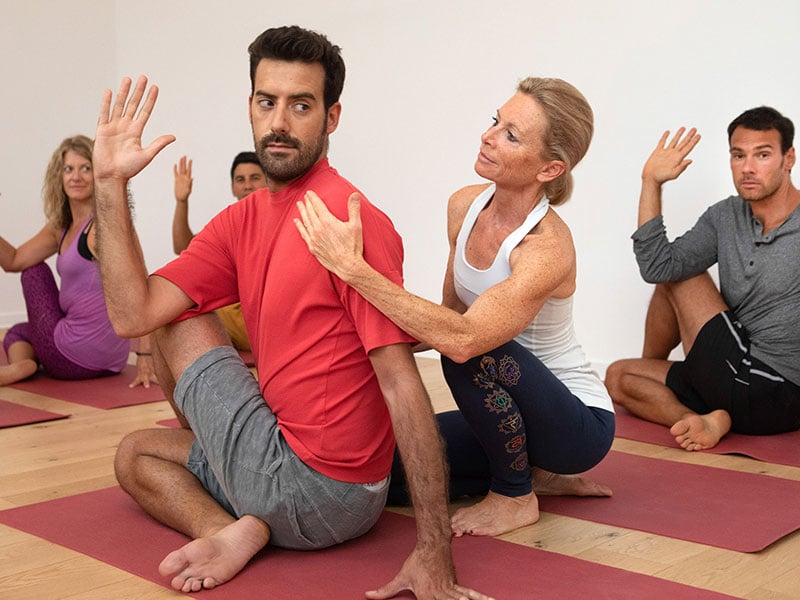 My group sessions have a class framework but I take each student into account at all times. According to the group I may suggest options which adapt movements to different levels of practice.
Each session is based on a particular theme and all aspects of Yoga will be adressed during the practice time. For instance, in one session I may guide you towards a specific posture, with the path leading to that goal being of greater importance than the posture itself.
My ambition is that each student will really enjoy the personal practice of Yoga within a group, with no comparison, no competition and no self-criticism.
I teach in several yoga centers in various parts of Geneva, and I offer morning, afternoon and evening sessions, according to the day of the week.
For session details, check my timetable.
For more information, don't hesitate to contact me.
Adolescence is a complex phase of life as the body transforms itself dramatically. As the growing child moves towards adulthood, he/she seeks structure and landmarks. He/she may be subjected to a lot of pressure and stress.
Yoga helps teenagers to accept the physical changes in their bodies as well as their individual specificities, leading them to discover all their potential on a physical and emotional level.
By combining asanas (postures) with breathing exercises, teenagers develop concentration and resilience which increases their optimism and trust in themselves and their future. The period of relaxation allows them to let go, to connect with their inner self and boost their energy. Group sessions are creative and fun, giving teenagers a time just « to be », with no competition, performance expectations or obligation. A time to themselves to help them feel good inside!
For more information, don't hesitate to contact me.